GOOD GRIEF CONFERENCE | Friday April 16th, 2021
Presented by TrueNorth Companies

During the COVID19 pandemic, we've witnessed the magnification of grief in isolation. On a mission to bring light and healing, Robin envisioned an opportunity to offer stories of connection and tools for surviving and thriving through grief - all grief. Loss of employment. Loss of relationships. Loss of normalcy. Loss of dreams. Loss of life. 'Good Grief' is this opportunity.
We all experience grief during our lifetime. Loss, tragedy, and trauma impact our self-image, our perspective of the world, our relationships, and our work.
For generations, we've been taught to hide or bury our grief. Consequently, most of us don't recognize the negative impact the grief we carry has on our decisions, our perceptions, and our health. Many of us have not been given the language, skills, or permission to navigate our grief and therefore don't know how to support ourselves or others through it. Let's change the narrative and improve our lives. 
This conference is for our community. This conference is for all people because we all experience grief and we all need support in it. Both personal and professional relationships will benefit from the conference content. We will share stories that build connection, and provide tools and resources that help you support individuals and teams through grief. Attendees will leave with a better understanding of themselves and others - improving life, work, and everything in between!
GOOD GRIEF AGENDA
9-10am:  Registration
10am: Welcome + Presenting Sponsor Message
1030am: Speaker, Robin Boudreau
11am: Workshop w/ Jade Spielman, LMFT 
1145am: LUNCH
1230pm: Speaker, Lindsay Leahy
1pm: Workshop w/ Courtney Misener
145pm:  BREAK
2pm: Keynote Speaker, Nora McInerny 
245pm: Keynote Q+A
3pm: Closing Comments
315pm - 5pm: Happy Hour + Connection, VIP Book Signing w/Nora McInerny
Tickets must be purchased in advance.
In-Person Experience: 
$150 per person; $125 EARLY BIRD PRICING THRU 3/1/2021
$1200 Table of 8; $1000 EARLY BIRD PRICING THRU 3/1/2021
Virtual Experience:
$75 per person; $60 EARLY BIRD PRICING THRU 3/1/2021
*If you and your guest(s) would prefer to be at a table with less than 8 people, please reach out to stevee@nofoottoosmall.org to arrange.
**To ensure you are seated with your preferred friends/family, we encourage you to purchase a table.
***Physical tickets will not be shipped.  Please enter the names of attendees to your order.  These will be confirmed at check-in.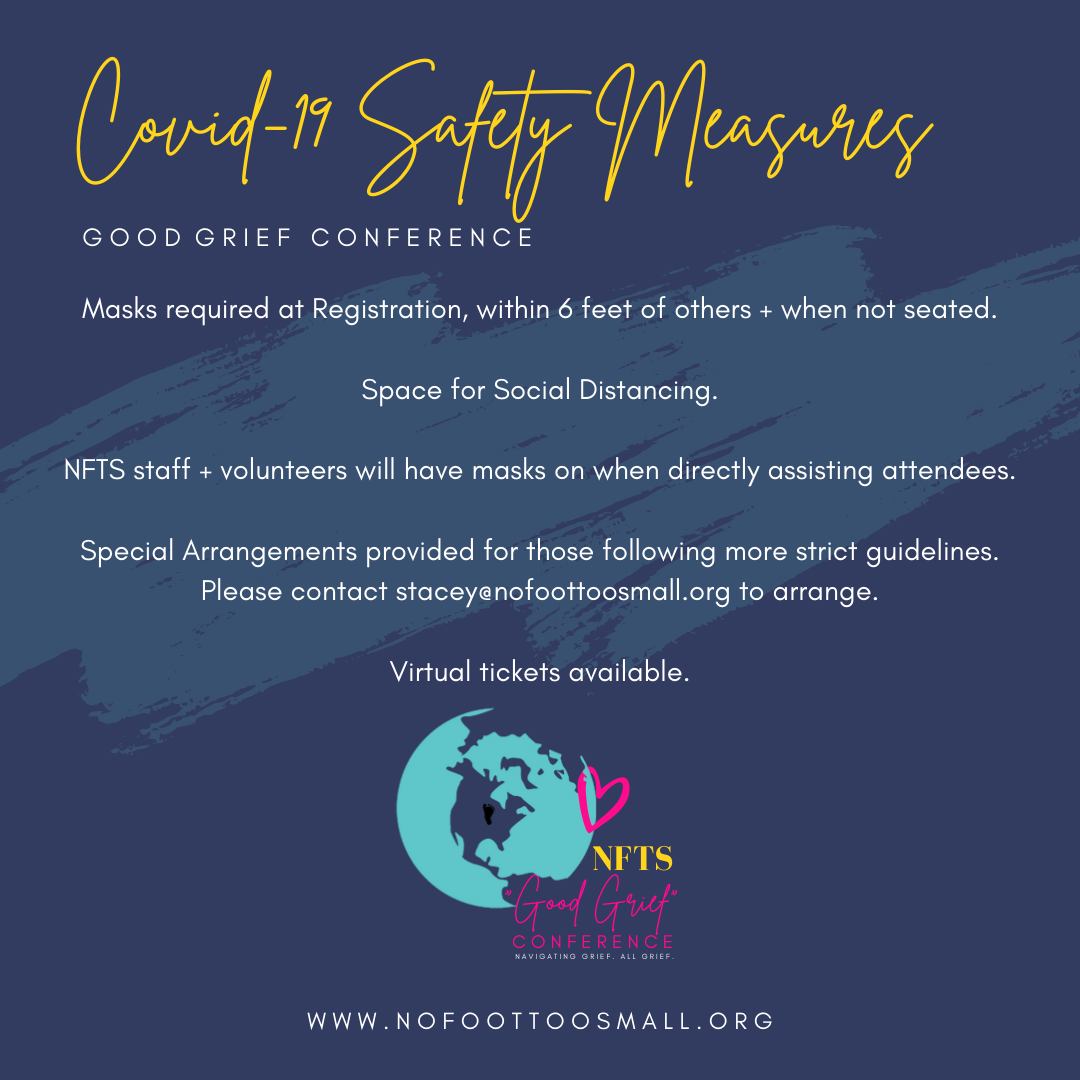 LOCATION
---