NFTS Blooms + Butterflies | Des Moines | August 20th, 2023
Presented By...(this is your chance!)
Proudly Hosted By
Please join us for the 1st Annual No Foot Too Small Blooms + Butterflies at Howell's Greenhouse and Pumpkin Patch on August 20th in Cumming, IA from 5:00-8:00pm.  This family-friendly event will celebrate and honor our NFTS angels with:
Food Trucks - Mactopia!   Iowa Classic Concessions! 
Kids Activities - Playgrounds, Kid's Train, Goat Cuddle Pen, and various other on-site activities! 
Face Painting - Nerd Art!
Balloon Artist - Access Yourself!
Family Take-Home Gift - It's A Surprise!
Event + Family Photography - Kirby Ales Photography!
As always, we will end the evening with a Monarch Butterfly Release!
Tickets are $20 per person.  Ages 2 and under are free.
*Physical tickets will not be shipped.  Please include the name(s) of attendees with your order.  Thank you!
---
REGISTER TODAY!
---
Our 2023 Exclusive Blooms + Butterflies Tee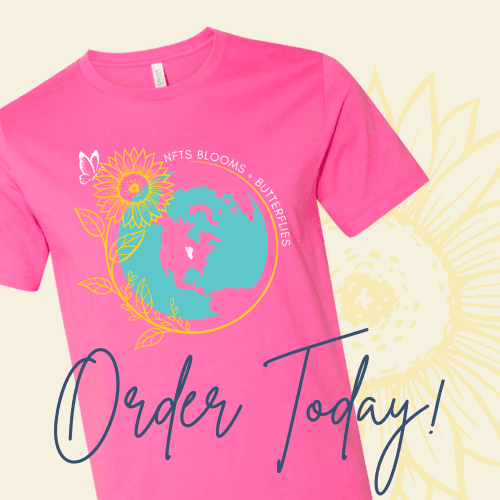 Order yours before 7/31!
---
THANK YOU TO ALL OF OUR SUPPORTING SPONSORS!