NFTS Angel Wing Project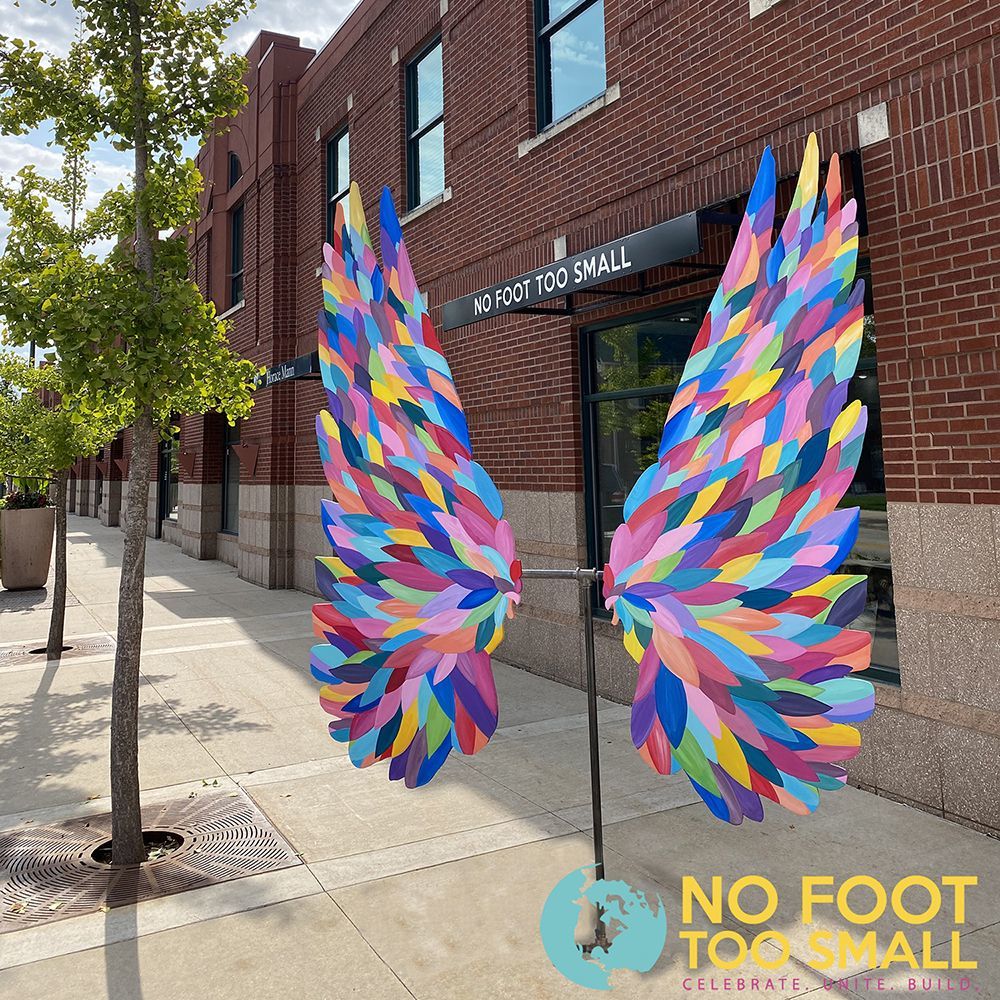 The NFTS Angel Wing Project is a traveling public art piece constructed out of wood and vibrant paints.  To be displayed across Iowa, each custom wing *feather* will be personalized with an angel name in honor of a NFTS family.
The Angel Wing Project**
Brought to life through loss.
What began as a vision by Angel Ambassador and proud mother to Liam, Lindsay Crowley Felty dreamt of a "larger than life" set of wings, that would not only celebrate angels but also unite together families who have experienced loss. Through the craftmanship of loss dad Chas Pope, the No Foot Too Small Angel Wing Project began.
After their design + construction, our next goal was in finding the right artist to breathe light, color, love and life into this very special project. At age 15, Rebeckah Regennitter seemed an unlikely choice as a full-time high school student and budding painter. What developed was the perfect match, as she embodied the mission of No Foot Too Small through her attention to detail, love of color, and sensitivity to honor every angel highlighted on the wings.
Beckah spent over 200 hours during the summer of 2020, from June until their unveiling at the Des Moines Wave of Light event on October 15th, 2020. Each feather is hand-painted, blended and layered, with both wings being exact mirrored copies of each other. Extraordinary, their vibrant colors and delicate strokes stand out in any space. We never could have imagined the tremendous impact + strength that these wings have created. They are simply breathtaking.
It is our honor to include angel names for families that have experienced pregnancy and infant loss in a way that is meaningful. If you are interested in hosting the Angel Wing Project in your location, or in sponsoring the third set of wings soon to be in production, please reach out to Robin at robin@nofoottoosmall.org.
**Any re-creation or copyright of this project in any way is strictly prohibited.
CELEBRATE ANGELS.
There is power in saying and writing your child's name - to show that they existed, they mattered, and they are loved.  Families can choose to honor their angel by reserving a wing piece to have their child's name personally crafted onto.
UNITE FAMILIES.
After completion, the Angel Wing Project will be on display at many of our NFTS events, as well as hosted at some indoor and outdoor locations as secured.  This provides an opportunity for families that are new to their own loss, to know that they too belong to the NFTS family.
BUILD BIRTHING + BEREAVEMENT SUITES.
Donations raised from the purchase of a custom feather will help support the mission of No Foot Too Small.
Angel Wing Travel Schedule
March 1 - April 15: Downtown Des Moines Marriott 
April 16: Good Grief Conference, Bella Sala
April 17 - May 14: NewBo City Market, Cedar Rapids
May 15: Marion Arts Festival
May 16 - June 5: NewBo City Market, Cedar Rapids
June 6: Angel Open, Sands Volleyball, Des Moines
June 12: Blackhawk Hotel, Davenport, IA
June 25: Waveland Golf Course, Des Moines, IA
July 9: Pheasant Ridge Golf Course, Cedar Falls, IA
July 10 - August 12:  TBD
August 13: Big Grove Brewery, Iowa City
August 14 - August 28:  TBD
August 29:  Colony Pumpkin Patch, North Liberty, IA
September 1 - 19: Backpocket, Coralville, IA
September 20 - October 14: MercyOne, Des Moines
October 15: Wave of Light, Des Moines
October 16-23: Hyatt Regency, Coralville
Oct 24 - Nov 4:  Kruse Chiropractic, Sioux City
Nov 10:  Hyatt Regency, Coralville
**Remainder of 2021 to be confirmed + posted soon.